NEW MEMBERS ARE WELCOME!
To become a member there is a probationary period during which a person attends three of the monthly business meetings and volunteers to participate in some form of supervised garden activity during the open season. Full membership can then be granted by the voting members once the probationary period has been completed.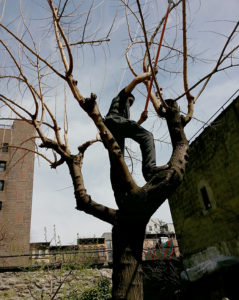 Peter Gere pruning the big Mulberry, 2017
If you are interested in applying to become a member of Albert's Garden, you can either leave your name and contact information with any member at the garden, or use our Contact Us  page.