Becoming an active member of Albert's Garden offers many benefits. In addition to being a steward of this community space and thus improving life in the neighborhood, membership allows you to work with other gardeners, learn about urban ecology, understand many aspects of cultivating and nurturing land, and gives you insight into group participation. Our members have free and complete access to the garden all year long and delight in sharing their expertise.
Active members are expected to attend monthly business meetings, pay dues, and participate in a minimum of 2 hours per week during the open season in either garden sitting, committee work, cultivation, or maintenance activities essential to garden upkeep. The membership works collectively to maintain the vision of a unified space and members do not have individual plots.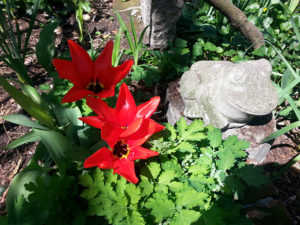 We welcome the opportunity to recruit new members from our community. More details about the membership process.
You can also contact us directly through our Contact Us page.
---