Albert's Garden, in celebration of its 50th Anniversary, opened its gate to the public as part of Printed Matter x 8Ball Community Spring Zine Fair on June 12th with a showcase of photographic artwork by two garden members. Set to music curated by Greg LeClaire, images taken of the garden during the pandemic, Surviving Covid, by photographer, Francine Lange, were projected directly onto one of the garden's expansive brick walls alongside a photo narrative entitled, My Secret Garden, by artist, Allegra Colletti, in collaboration with photographer, Yu Mengci.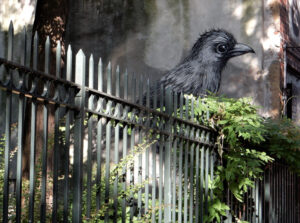 Photo by Francine Lange
More about the artists in the Event Brochure.
---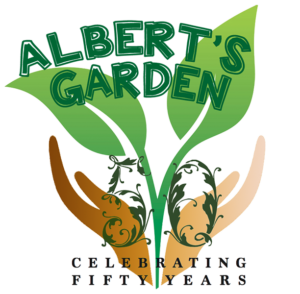 Sunday, September 12
Albert's appreciates your support and invites you to join us in the Garden from noon until dark, for our official 50th Anniversary Celebration. A brief ceremony begins at 2pm. Donations appreciated.
---
Albert's Garden lends its serene natural beauty to many different kinds of events. 
Designer, Renea LaRiviere staged a photo shoot of her clothing line, Zepherina, in the garden.  In her words, "A beautiful photo shoot, with the ever-gorgeous Albert's Garden as a backdrop." The fashion layout appeared in VOGUE, March 2020.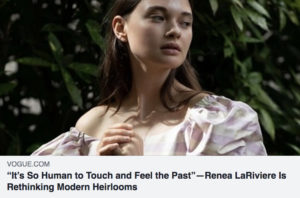 We have hosted poetry readings … music concerts … small theatrical performances.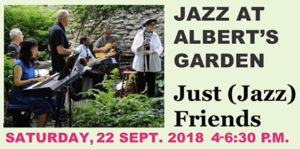 Make Music New York  – Albert's has taken part in Make Music New York's yearly, live, city-wide musical celebration on the Summer Solstice.  
Annual Fall Halloween Open House – At the end of October, the garden celebrates  each year of community gardening.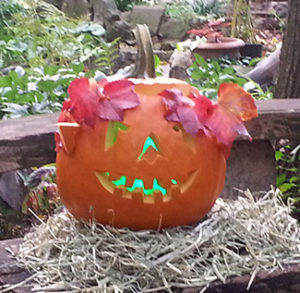 ---
Private Events
---
Albert's Garden is also available on occasion for small private events such as weddings, baby blessings,  birthdays … as well as small photo and film shoots. If you are interested in knowing more about this, please contact us through our Contact Us page well ahead of time, as this will have to be approved by the membership during our regular monthly meeting cycle.
---
Baby Blessing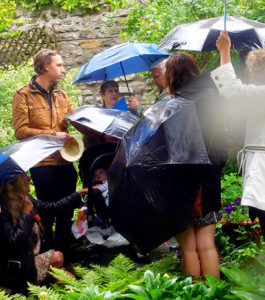 ---
The Hamsten-Tandon Wedding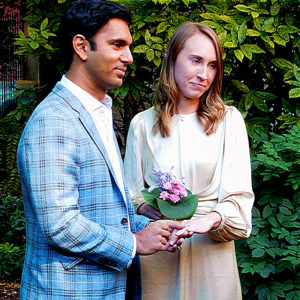 The Stocker/Fonteksander Wedding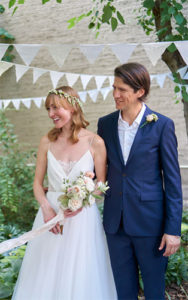 ---
Albert's Garden also participates in Community Outreach in our neighborhood.