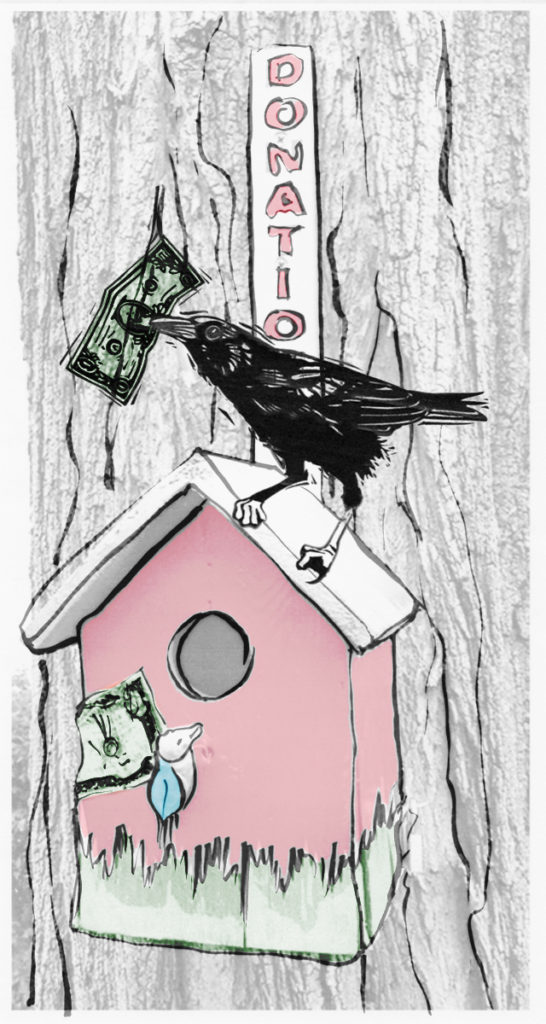 In becoming a beloved sponsor of Albert's Garden, you help make sure that hundreds of visitors a year, passersby, local residents, and tourists alike can continue to enjoy our greenery and peacefulness–much needed in harried urban landscapes, much appreciated when found.
Your financial support of Albert's, a gem of natural serenity and beauty, is the essence of "giving back," in this instance helping ensure that a unique patch of delightful open space, where anyone can relax and reflect, remains in the East Village.
For 50 years, Albert's has been managed and maintained entirely by a small but loyal and hard-working group of volunteers. We depend on donors to help meet our expenses (mainly bills for water, plant replacement, fish food, and general maintenance). For a yearly donation, you will be invited to our special events, your name or business will be added to our donors list, and you can plan occasions when a small group can meet in the garden.
---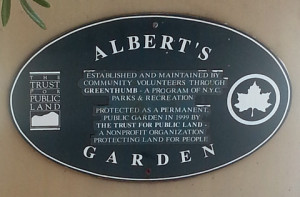 Albert's Garden is a member of the Manhattan Land Trust, Inc.
The property was purchased in 1998 by the Trust for Public Land at city auction along with 80 +/- other community gardens throughout four boroughs of New York City. Those gardens were subsequently organized into the Bronx, Brooklyn, Queens and Manhattan Land Trusts, each of which are independent entities.
We are incorporated as a not-for-profit 501c.(3) in 2014 (EIN No: 47-2003727) and is registered with the New York State Charities Bureau. We receive no support from any public agency – federal, state or local. We have no political or religious affiliation. Our sole purpose is to provide a quiet respite for the general public in order to foster appreciation of and education about the natural environment along with science and the arts.
We count on you to help! Your donation is tax deductable!
Contact Albert's Garden
Phone: 212-475-3069
Email: albertsgarden@earthlink.net
Your tax-deductable donation may be sent to us in the form of a personal check made out to Albert's Garden.
Mail to: Alberts Garden
68 E. 3rd St. Apt. 9
New York, NY 10003-9241
---